How to Create and Download a Shipper's Letter of Instruction Document
A Shipper's Letter of Instruction (SLI) is an essential legal document/contract created between the shipper and the freight forwarder (or 3rd party) that is organizing the export of a shipment.  It is a detailed document used in International trade that provides logistics instructions relating the the export of a shipment.
The freight forwarder will use this Shippers Letter of Instruction to correctly arrange the transport and logistics of the export shipment.
Details that are required on a Shipper's Letter of Instruction template:
Shipper and Consignee
The shipper will confirm the details of the exporting company (shipper) and the company overseas that is receiving the cargo (the consignee).  This requires the company name, address, contact phone number, email address etc.
Notify Party
If the consignee works with another 3rd party in the country of import, that company's details can be added as a Notify Party.  Again, the notify party will also include company name, address, contact phone number, email address etc.
Forwarding Agent
The forwarding agent is the freight company that is nominated to arrange the logistics of the shipment.  The freight company will require their company details, logo and their specific terms and conditions.
Cargo & Product details and descriptions
The SLI will require detailed fields on the products and packaging details.  These details include description of goods, number and kind of packages, Gross weights (kg), measurements (m3), shipping marks & numbers.
Shippers must declare if the shipment includes any Hazardous / Dangerous goods and if the shipment is under a Letter of Credit contract.  In addition, any other special instructions or additional information can be added.
Departure and Destination details
The port of loading and port of discharge for the shipment (airport or seaport).
Shipment Type & Pickup Details
The Method of Dispatch (Sea, Air, Road, Rail), Type of shipment (FCL, LCL, Breakbulk etc).  Confirmation if the freight is required to be picked up from the shipper's address.
Freight Charges
The shipper will declare which party is paying for the freight charges (Freight Collect, or Freight Prepaid).  This depends on the Incoterm® that is agreed between the buyer and seller.  It will also detail document instructions.
Signatory Company
The shipper must declare the signatory company, name and date of authorized signatory to complete the document.
Shippers Details (Sender)
Consignee Details (Receiver)
Notify Party (3rd party, if Required)
Shipper's Reference Number
Shipment Type
Requires pickup
Incoterm®
Port of Loading
Port of Discharge
Vessel Name
Voyage Number
Container Number
Seal Number
ISPM Packing details
Country and State of Origin (product)
Value of goods sold
Currency
Hazardous Cargo – if Yes, UN#, Class, Packing Group
Shipment under Letter of Credit
Shipment insured
Shipping Marks
Documentation Instructions
Total Number of Packages
Total Gross Weight (kgs / lbs)
Total Packing Size (cbm / cuft)
Commodity / Nature of Goods
Special Instructions
Signed Declaration – Signatory company, name and date of authorized signatory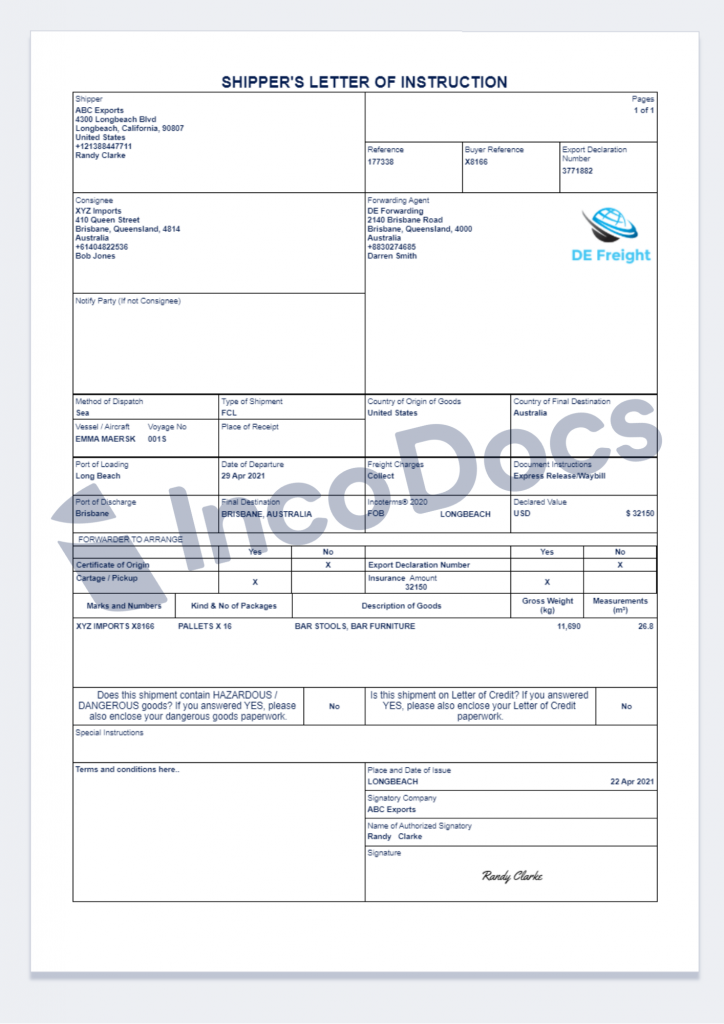 How to create a Shipper's Letter of Instruction template for multiple freight companies.
When shippers deal with multiple freight forwarding companies they must complete a shippers letter of instruction document for each freight company.  Each of these freight companies will request that shippers complete an SLI document to their own specific layout or template that specifically includes their logo and terms and conditions.
On top of that, each freight company will have their own unique layout for the SLI, which is time consuming to complete each time.  At IncoDocs, we've created a Universal SLI that can be used for all freight forwarding companies.  It uses a Universal template that allows you to save a freight forwarder's details (including their logo and terms and conditions).
This allows shippers to simply select a freight forwarder from the list and finish completing the SLI document.  Create your SLI document here.
What is a Forwarding Instruction?
A Forwarding Instruction document is similar to the shippers letter of instruction.  This is used when the shipper is dealing directly with the actual shipping line, to give instructions to correctly arrange the shipment.