Import Export Course Online Training Guide
If you're an existing or new importer, exporter or trading company wanting to learn about an import export course online, download the Global Trade Guide.
Global trade can be a complex and confusing process if you don't have access to the resources and information that you need. One global trade shipment requires several parties to communicate and share vital information and documentation on time, to ensure that products are delivered without problems or delays.
To succeed in the import export process, you must clearly understand the procedures that are involved in buying, selling and shipping products Internationally.  Download the guide to understand the essential import export information and procedures to succeed when doing business Internationally.

Import Export Guide Contents:
Understanding International Commercial Terms, Incoterms® 2020, with Chart
The International Chamber of Commerce have published new Incoterms® 2020 that have come into effect from the 1st of January 2020.  The ICC originally published Incoterms® in 1936 and have continually made updates to reflect the changes to the Global Trade environment.  It's important that all parties involved in trade clearly understand the changes and how they apply to global supply chains.
Incoterms® play such a vital role in the world of global trade.  Incoterms® 2010 or Incoterms® 2020 may seem complicated, but it's imperative that buyers and sellers clearly understand how they work and their own obligations along the supply chain.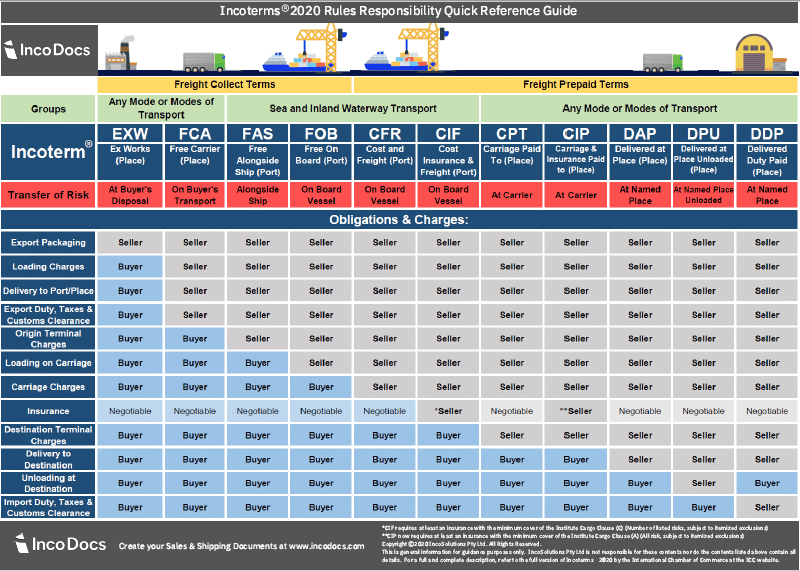 Shipping Container Sizes & Specifications
When exporting goods Internationally, there are different types of shipping methods and shipping container types to consider. The shipping method to use mainly depends on the product's overall packing sizes, cubic measurement or total weight. View the chart of shipping container sizes and specifications.
Incoterms® play such a vital role in the world of global trade.  Incoterms® 2010 or Incoterms® 2020 may seem complicated, but it's imperative that buyers and sellers clearly understand how they work and their own obligations along the supply chain.
Choosing the Right Freight Forwarding Partner for your Business
Freight Forwarders are companies that specialize in arranging all of the shipping and logistics of goods from the start to finish of the supply chain. Because the International supply chain involves so many different processes and parties in different countries, freight forwarders specialize in connecting services to streamline freight movements around the world.
Freight forwarding companies will act on the behalf of shippers to arrange services ranging from export documentation, international seafreight charges, customs clearance procedures, import duties/taxes, port handling fees, local trucking and marine insurance.
How Free Trade Agreements and Certificates of Origin Work
Free Trade Agreements are agreements, usually between two countries, that eliminate the import tariffs (import duty fees) that are paid on imported goods. Learn how Certificates of Origins are used to reduce or eliminate import duties between countries with Free Trade Agreements.
International SWIFT T/T Payments, Payment Terms and Trade Finance
Learn how different payment terms are used throughout the import export process and how they affect risk for each party involved. Read how buyers most often make International payments by Telegraphic Transfer (T/T) using the SWIFT payment network. Trade finance can be utilized to enable exporters or importers to get fast access to the finance required to get products manufactured and shipped Internationally.
HS & HTS Codes
The HTS code or HS code are part of a worldwide standardized system of classifying goods in international trade.  They are also know as a Harmonized System Code or a Tariff Code.  These are significant unique numbers that are used to identify and determine the different types of products that have been shipped around the world.
These codes contain a minimum of 6 digits and can be up to 10 digits long. Customs departments and governments around the world will use them to correctly identify and clear products through customs departments around the world.
Types of Bills of Lading used in Global Trade
A Bill of Lading (B/L or BoL) document is an extremely important document involved in the shipping and logistics industry. A Bill of Lading is a document that the Carrier of goods issues to the "Shipper" of the goods.
It's a document to provide evidence or proof of shipment. This is extremely important in International Trade as it provides 'title' as to who legally owns the cargo. Moreover, the Bill of Lading acts as evidence of Contract of Carriage, receipt of goods and document of Title to the goods.
Also, the owner of the cargo (the holder of the B/L) has the legal rights to claim the goods or arrange transfer ownership of the cargo to another party in the supply chain.
Creating Sales Documentation, Countersigning Proforma Invoices, Purchase Orders & Sales Contracts
Learn about the different documentation templates that are used throughout the sales and purchasing process. Read how countersigned Proforma Invoices, Sales Contracts and Purchase Orders represent a legally binding agreement between the buyer and seller. If there are any problems or disputes relating to the order or shipments, these documents will be referred to in a court of law.
Cloud Software for Exporters, to allow Remote Working
Today there are many new cloud-based software solutions for export companies to streamline their export processes, increase visibility, allow teams to work remotely and to grow their export sales. View a list of recommended software for export companies to streamline export procedures, allow teams to work remotely or to grow International sales.