Chambers of Commerce play a pivotal role in providing Certificate of Origin documents used for global trade.
First of all, a certificate of origin document is an important document used in global trade to confirm the country of origin of where the goods have actually been manufactured or processed.  So, the document will be used when the country of export and the country of import have a current Free Trade Agreement in place (see bottom of article).  These free trade agreements can reduce or eliminate import duties and tariffs in the country of import.  Chambers of Commerce will authorize Certificates of Origin documents used in global trade.
How a Certificate of Origin works in the import-export process
The certificate of origin document will be used by the importer's freight forwarder, customs agent or customs broker during the import customs clearance process.  These brokers will use the certificate to prove to customs that the goods have been manufactured within the country of export.  As a result, this will reduce or eliminate the import duties that are payable on imported goods.
Which party provides the Certificate of Origin?
The shipper can create their own Declaration of Origin template to make a declaration on behalf of their company.  This document will state the country in which the goods were made (usually the country of export).  However, most import countries customs departments will require that the certified document  from the local Chamber of Commerce in the country of export.  That local Chamber of Commerce will act as the 3rd party that will verify the shipper's declaration.  They will charge a fee to sign and stamp the document.  That document will then become 'certified' then the shipper will email it through to the importer so that it can be used in the customs clearance process. The shipper must provide the document before the shipment arrives into the country of import to avoid any problems or delays with the customs clearance process.
How to obtain a Certificate of Origin from a Chamber of Commerce
Each country have their own set Chambers of Commerce that will specialize in certificate of origin documents.  For example, if you've shipped products from the USA to Canada then you can contact any local or state American Chamber of Commerce (AmCham) and submit your NAFTA certificate (now renegotiated as the USMCA) or declaration of origin template.  Most Chambers still manually sign and stamp original documents, whilst other chambers may offer an online digital certificate of origin solution.
Popular Chambers of Commerce around the world:
What information is included on the Certificate of Origin template?
A Declaration Of Origin or Certificate of Origin form will include the below details:
Shipper's (Exporter's) company name, address and contact details
Consignee's company name, address and contact details
Port of loading
Port of discharge
Vessel Name and Voyage Number
Date of Departure
Final Destination
Certificate Number
Exporter's Reference
Letter of Credit (if required)
3rd party details (if required)
Details of products included in the shipment – including shipping marks and numbers, number and kind of packages, description of goods, HS Code / Tariff Code, Gross Weight
Statement of the country of origin of goods
Name, date and signature of the authorized company representative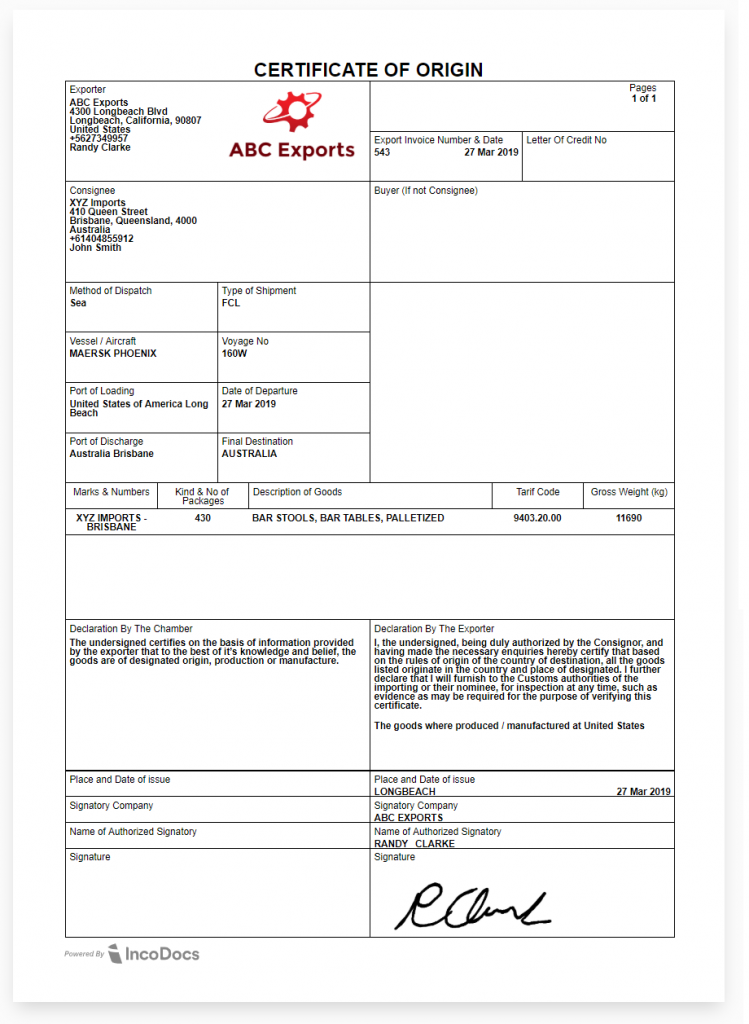 What is Free Trade Agreements?
Free Trade Agreements (FTAs) are international treaties that reduce barriers to trade and investment.  They are individual agreements between 2 countries that act to reduce or eliminate the import tariffs (import duty fees) that are paid on imported goods.  So, these import tariffs are charges that are payable when the country of destination imported products. When the country of import and export have a current Free Trade Agreement in place it will reduce or eliminate the import duty fees payable.
Why do Free Trade Agreements Exist?
Free Trade Agreements exist primarily to increase two-way trade between the countries.  They benefit both nations involved as it encourages importers to source and purchase products from exporters in the other.  Some of the Importers' costs are reduced which makes the exporter's products more competitive and appealing to buyers in the other country.  In addition, they also help with overcoming some internal barriers which impede the trade of goods and services between countries.  They also encourage increased investment and cooperation.
Here is a list of Countries with bilateral Free-Trade agreements
An example of how the Certificate of Origin reduces import duties
The below example explains how using a Certificate of Origin can reduce or eliminate the import duties.
The importer shipped $14,000 of products
The importer must pay all associated import costs, including sea freight charges, local port handling/customs charges, import duties & taxes.
If the country of export and country of the import do not have a current Free Trade Agreement, then the importer will have to pay import duties on these goods (in this example, 5% of the product value).
However, if the 2 countries do have a Free Trade Agreement in place AND the exporter provides a Certificate of Origin, the importer's fees will be reduced or eliminated (Duty-Free, 0%).
Are you involved in Global Trade?
Our team created IncoDocs to make global trade easy.  We're proud to allow companies in over 100 countries to streamline their shipping document process.  Try it for yourself today.   If you need more information, speak to one of our trade specialists, we will be happy to answer any of your questions.