Proforma Invoices and Commercial Invoices are important documents used in the global trade process.
What is a Proforma Invoice?
First, a Proforma Invoice document is an important sales document that seller of goods creates.  When there is an confirmed International Order, the seller will create a Proforma Invoice document and send it to the buyer.  
Obviously, this document will confirm the details of the new order. Also, it usually includes the seller's bank details to request payment. Also, it's important to note that a Proforma Invoice is issued before the goods have been produced or delivered.
Read more about Proforma Invoices here.
What is a Commercial Invoice?
A Commercial Invoice document is issued to the buyer after the goods have been delivered or shipped.  Also, the commercial invoice format is essentially the same as a proforma invoice. But importantly, the commercial invoice confirms the exact quantity of the products that have actually been loaded and shipped.
Read more about Commercial Invoices here.
So, what is the difference between a Proforma Invoice and Commercial Invoice?
The 2 documents are essentially the same thing, the difference may be that the final quantity on the Commercial Invoice can be different.  Moreover, the quantity of products ordered (from the Proforma Invoice) is often different to the actual quantity of goods that have been shipped (Commercial Invoice). However, this is common in global trade.
However, this difference in quantity of products supplied can be due to many reasons. Certainly the most commonly it's because suppliers can have manufacturing issues. Other reason is the suppliers did not correctly plan how many products would actually fit inside shipping containers.  
To explain, please read more about some of the common shipping delays.  After the goods have been shipped, buyers, Freight Forwarders and Customs will require a set of shipping documents. For the reason that to clear the goods into the country of import.  So, the seller will provide the buyer with a "set" of shipping documents. This includes a Bill of Lading (proof of shipment), Commercial Invoice, Packing List and any other shipping documents as required.

After all, what information is included on Proforma Invoice and Commercial Invoice documents?
Seller's company name, address and contact details
Buyer's company name, address and contact details
Method of Dispatch – Road, Rail, Air or Seafreight
Type of shipment – FCL, LCL, Breakbulk or other
Port of Loading and Port of Discharge (seaport or airport)
Reference Number and Date
Delivery Date
Terms / Method of Payment
Product Descriptions – including item codes, product descriptions, Unit Quantity, Unit Type, Price
Incoterm® – The selling term agreed
Any additional information
Bank Details – the Proforma Invoice can include bank details requesting the buyer to make a payment
Name, date and signature of authorized company representative
 

See below examples of Proforma Invoice and Commercial Invoice templates for global trade: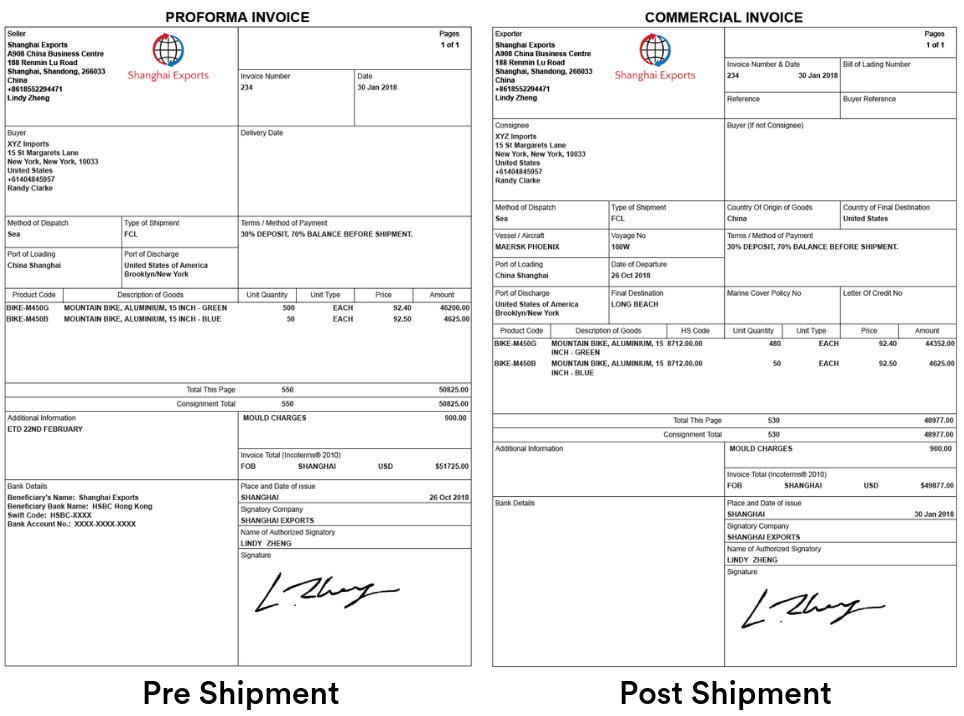 How to Create a Proforma Invoice Document for Export
How to Create a Commercial Invoice Document