Guide to Create and Download a Packing List document for Brexit
From 1st January 2021, shipments from the UK-EU and EU-UK will require detailed Packing Lists, Commercial Invoices and other export documentation to meet new Brexit regulations. As an exporter, you will be required to provide export documentation for Brexit such as Commercial Invoices, Packing Lists, Declarations, Certificates and more, so that products can be cleared through customs without problems and delays.
Therefore it's important that the Packing List template for Brexit contains all of the required information and fields. If documentation is missing fields and information, it can cause costly delays, fines or missed shipments.
A freight forwarder, customs broker and other supply chain parties will use the information contained on the document to correctly identify and transport the cargo. An export packing list will be used by Customs in the country of export of import to understand exactly how the products are packaged and loaded together in shipments.
Depending on how products are packaged together, an export Packing List can be created in multiple ways. Below are 2 example Packing List document templates to use for exporting products around the world.
1 – Creating a
Packing List document for FCL, LCL and airfreight shipments
This packing list template allows you to detail how multiple products and packages are mixed together inside shipments. This can be used for FCL, LCL and airfreight shipments and allows you to group together products into packages however they have been packaged together, i.e. mixed cartons, mixed pallets etc.
2 –
Create a Packing List document for multiple container shipments
This packing list template allows you to add multiple container numbers, seal numbers and description of goods when multiple containers are shipped together in the same shipment.
A Breakdown of a Packing List Template for Brexit
As mentioned above, it's important that exporters include all information on the Packing List template for Brexit to avoid having issues or delays when transporting the goods through customs.  Shippers use IncoDocs to create and download their Packing List and Commercial Invoice templates online.
We've split the Packing List into sections to make it easy to understand where relevant fields and information is required.  Starting at the top left is the details of the Exporter of the goods.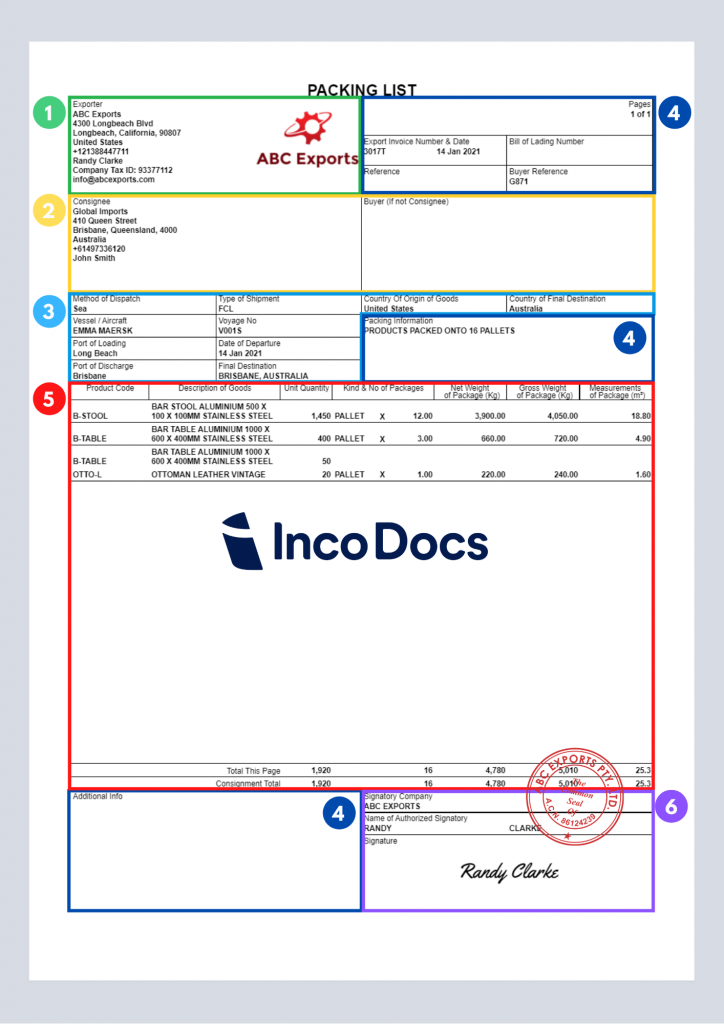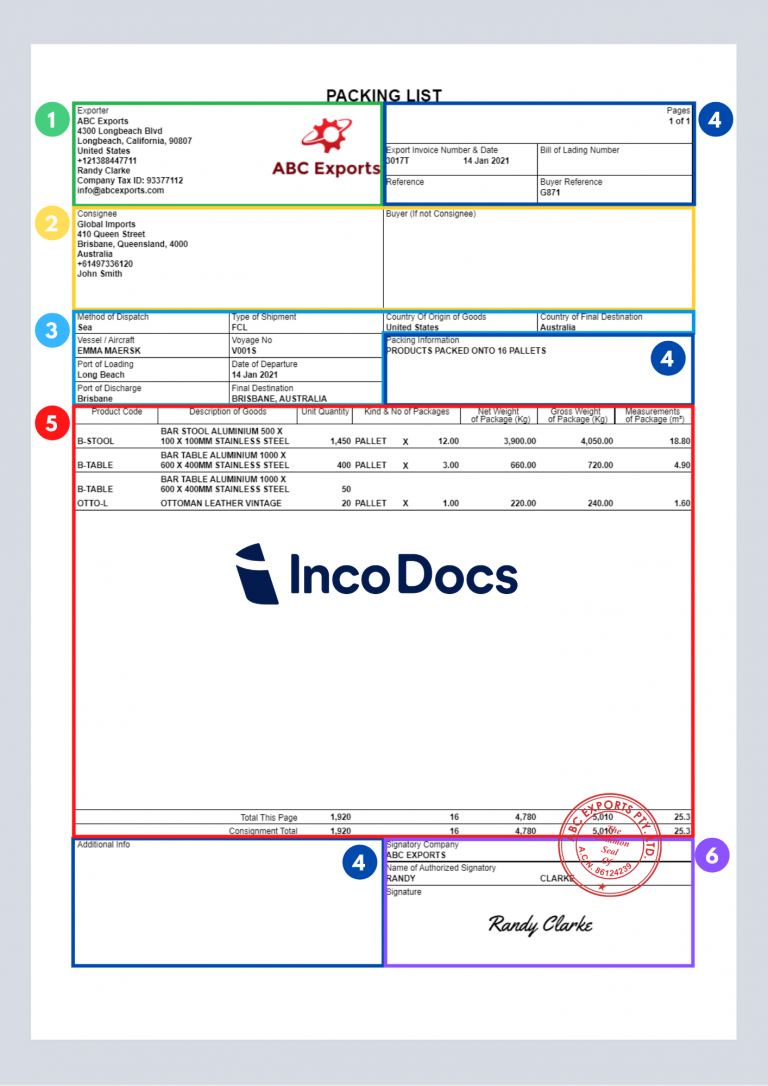 1 – Exporter's Details
This includes basic company contact information including company name, logo, address, phone numbers and personal contact details.  Note that you can add the relevant EORI number here.
You can obtain an EORI number in the UK at this link here.
You can lookup and validate EORI numbers at this link here.
2 – Consignee & Buyer (if not Consignee)
This includes basic company contact information including company name, address, phone numbers and personal contact details.
3 – Shipping Details
Important shipping and logistics details are included to help the consignee, logistics companies and customs brokers to correctly arrange the transportation, customs clearance and final delivery of goods.  Shipping details include:
Method of Dispatch – Road, Rail, Air or Sea Freight
Type of shipment – FCL, LCL, Breakbulk or other
Country of Origin
Country of Final Destination (where the goods are delivered through to final address)
Vessel / Aircraft Name
Voyage No.
Port of Loading (POL)
Date of Departure
Port of Discharge (POD)
Final Destination (Country)
4 – Reference Numbers & Additional Information
These sections includes reference numbers, dates and additional information:
Export Invoice number
Date
Bill of Lading Number (if known)
Buyer reference number (usually the buyer's Purchase Order number)
Additional Reference (if needed)
Packing Information
Additional Information (any delivery notes or additional details etc)
5 – Product and Packaging Details
The exporter must include details of exactly how the products have been packaged and loaded inside the shipment. This includes important information such as:
Product Code (unique product reference number)
Description of goods
Unit Quantity (Number of products)
Kind & Number of Packages. For example "Pallet x 12". Note that the packing list template in IncoDocs allows you to add multiple products into 1 package.
Net Weight of Package (kg)
Gross Weight of Package (kg)
Measurements of Package (m3)
6 – Authorized Signature
To finalize the document, the shipper can add their signatory details:
Signatory Company
Name of Authorized Signatory
Digital Signature (using IncoDocs, sellers can draw or upload their digital signature)
Digital Company Stamp (using IncoDocs, sellers can create or upload their digital company stamp or seal)
Other export documentation may be required, depending on the products being shipped and the Country of Origin and Country of Destination.
Keep a record of all of your Export Documentation
Note that in most cases, shippers are required to keep copies and records of all shipping documentation for a period of 6-7 years for auditing purposes.  Be sure to safely and securely save all documentation relating to your shipments.
European Exporters use IncoDocs to create Commercial Invoices, Packing Lists and other shipping documentation to meet Brexit Regulations
Exporters use IncoDocs' cloud shipping document software to create and manage all shipping documentation in 1 place and eliminate manual data re-entry. Users eliminate data re-entry by entering data into 1 master screen then have everything instantly sync to all shipping documents required.
Shipping documents include Commercial Invoices, Packing Lists (for FCL, LCL Air or Consolidated shipments), Verified Gross Mass Declarations (VGM), Shipper's Letter of Instruction (SLI), Forwarding Instructions (FI), Manufacturer's Declarations and other shipping documentation.
Integrate Accounting Systems to Eliminate Manual Data Re-entry
Eliminate re-entering invoices and purchase orders in your accounting systems through integrations. Use IncoDocs to connect to your Xero or QuickBooks account, or integrate IncoDocs to your own in-house systems.