Download the specifications of ULD containers that are used to securely transport air cargo all over the world.
What are Unit Load Device (ULD) Air Containers?
A Unit Load Device (known as ULDs) are specially designed cargo pallets and containers that are used to load freight, luggage and mail onto aircraft. These devices allow large quantities of cargo to be bundled and strapped together securely onto 1 mobile unit, so they can safely and securely transported.
The International Air Transport Association (IATA) is responsible for publishing regulations around the use of Unit Load Devices. They can also be referred to as a cargo pallet or a PMC pallet.
ULDs come in 2 forms – Containers and pallets.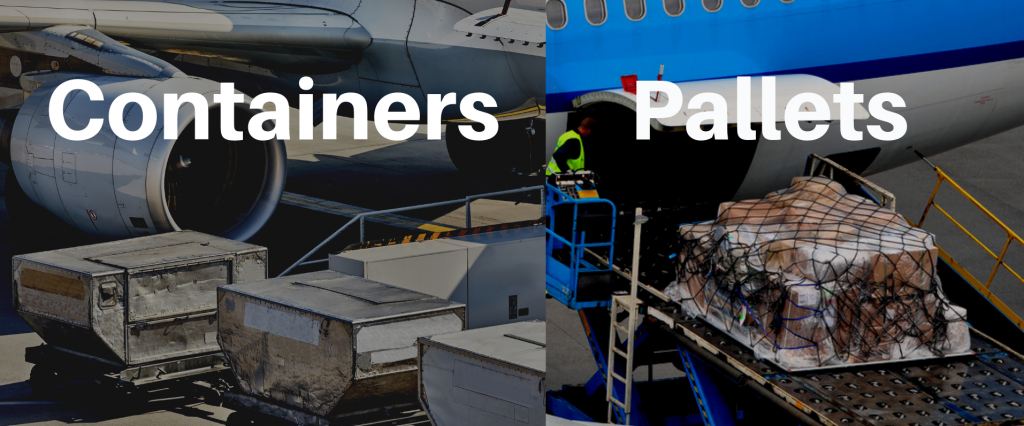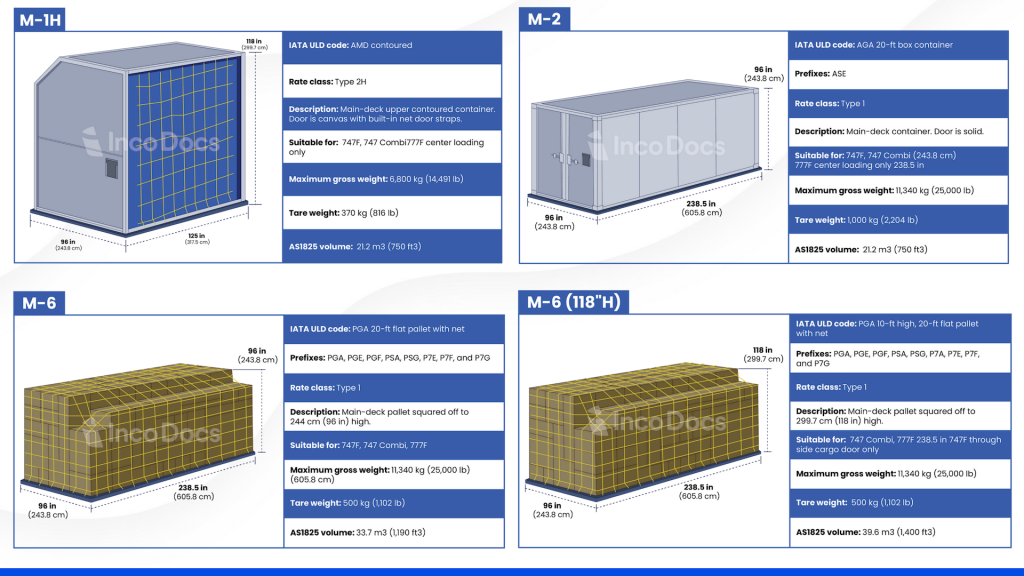 The following images and specifications illustrates the average external dimensions and weight limitations of popular ULDs.  These images are to be used as a guide only. Please note that the exact weight limitations and dimensions will vary by manufacturer.
LD-1 Unit Load Device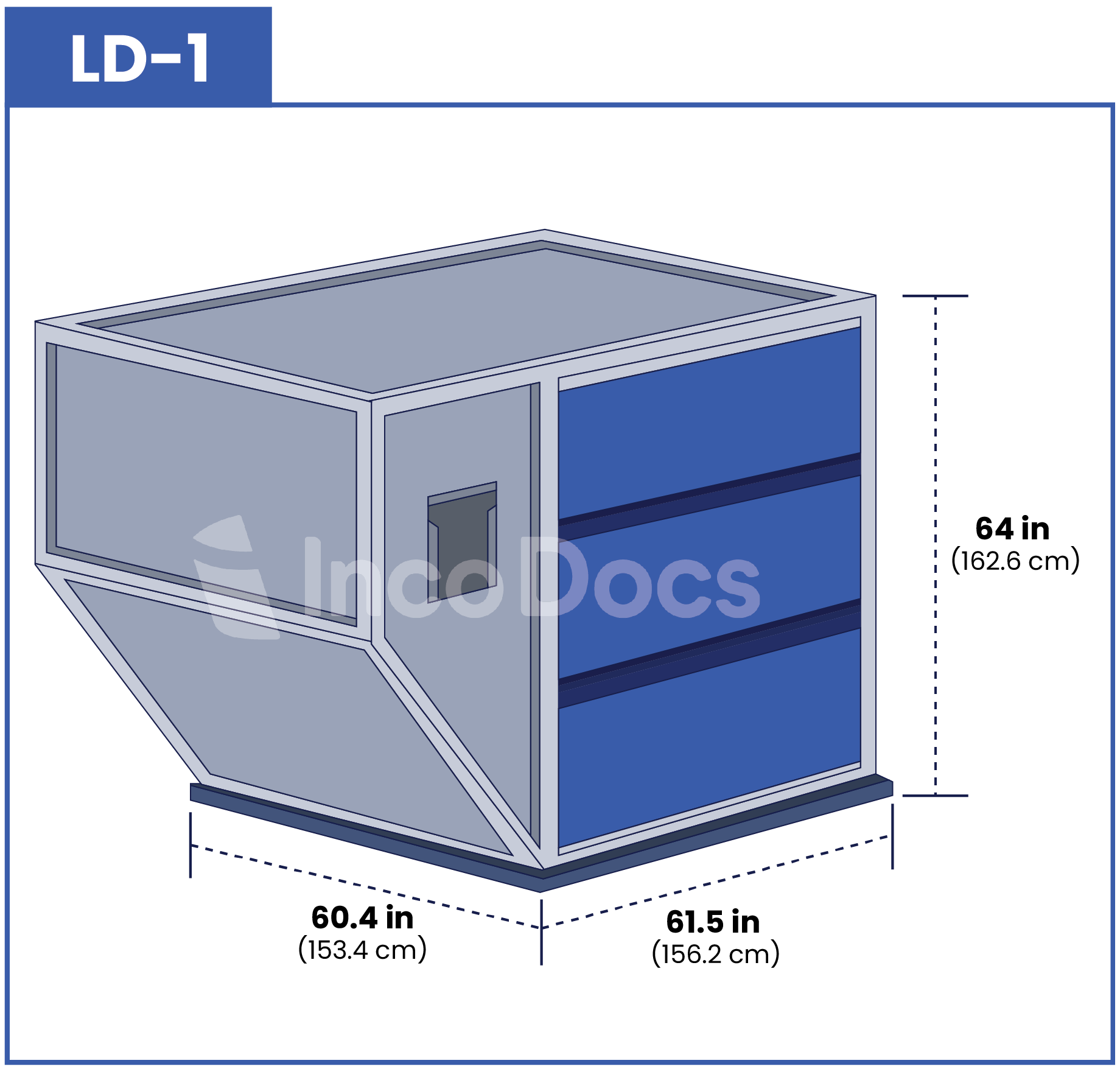 IATA ULD code: AKC contoured container
Prefixes: AVC, AVD, AVK, AVJ, and forkable AVY
Rate class: Type 8
Description: Half-width lower hold container with one angled side. Door is either canvas or solid.
Loadability: 747, 767, 777, 787, MD-11 lower hold
Door opening: 147 x 155 cm (58 x 61 in)
Maximum gross weight: 1,588 kg (3,501 lb)
Tare weight: 70 to 170 kg (155 to 375 lb)
AS1825 volume: 5.0 m3(175 ft3)
LD-2 Unit Load Device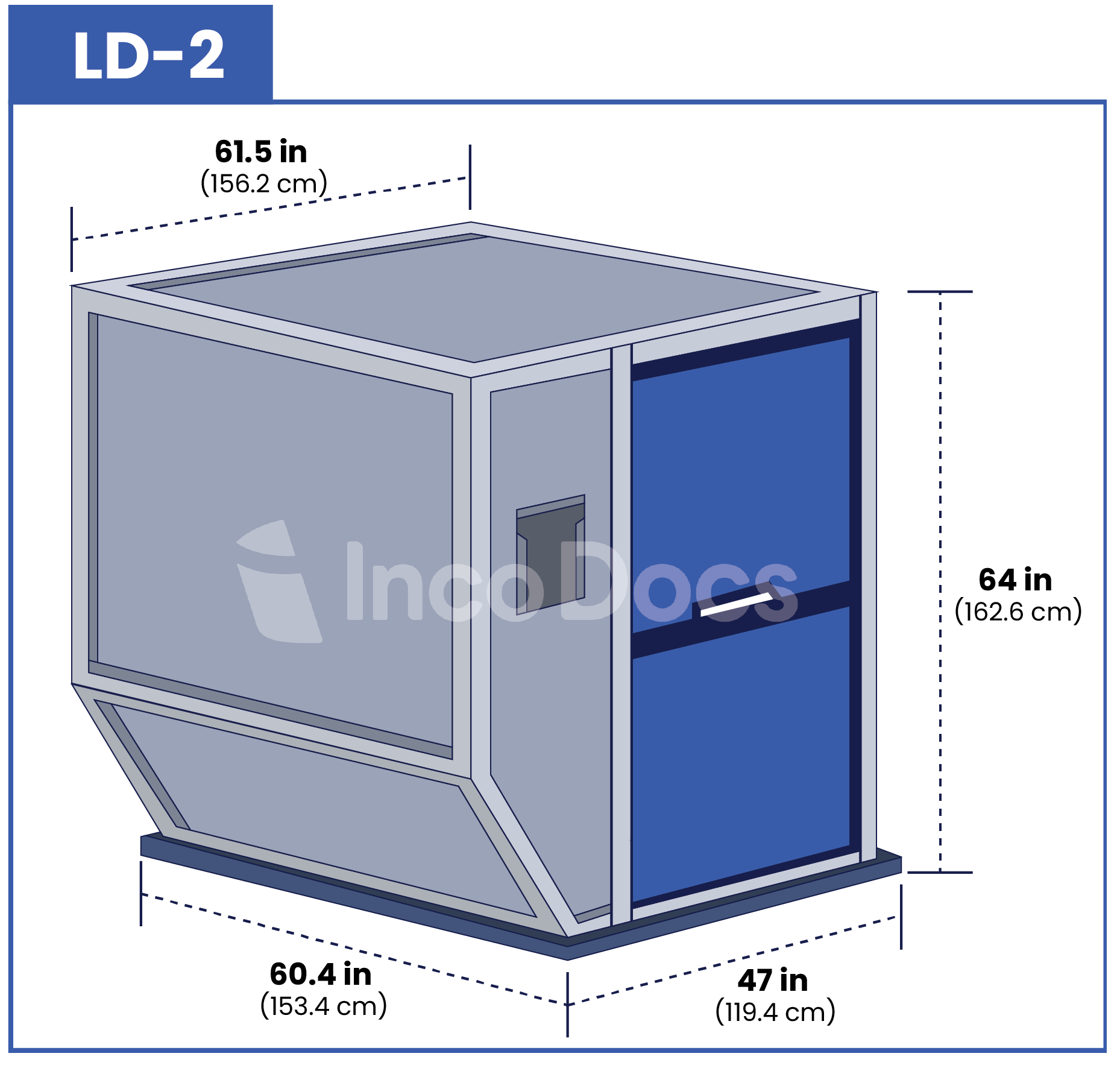 IATA ULD code: DPE contoured container
Prefixes: APA, DPA, and forkable DPN
Rate class: Type 8D
Description: Half-width lower hold container with one angled side. Door is either canvas or solid.
Suitable for: 747, 767, 777, 787 lower hold
Door opening: 44 x 60-in (112 x 152-cm)
Maximum gross weight: 1,225 kg (2,700 lb)
Tare weight: 92 kg (203 lb)
AS1825 volume: 3.5 m3 (124 ft3)
Boeing volume: 3.5 m3 (124 ft3)
LD-3 Unit Load Device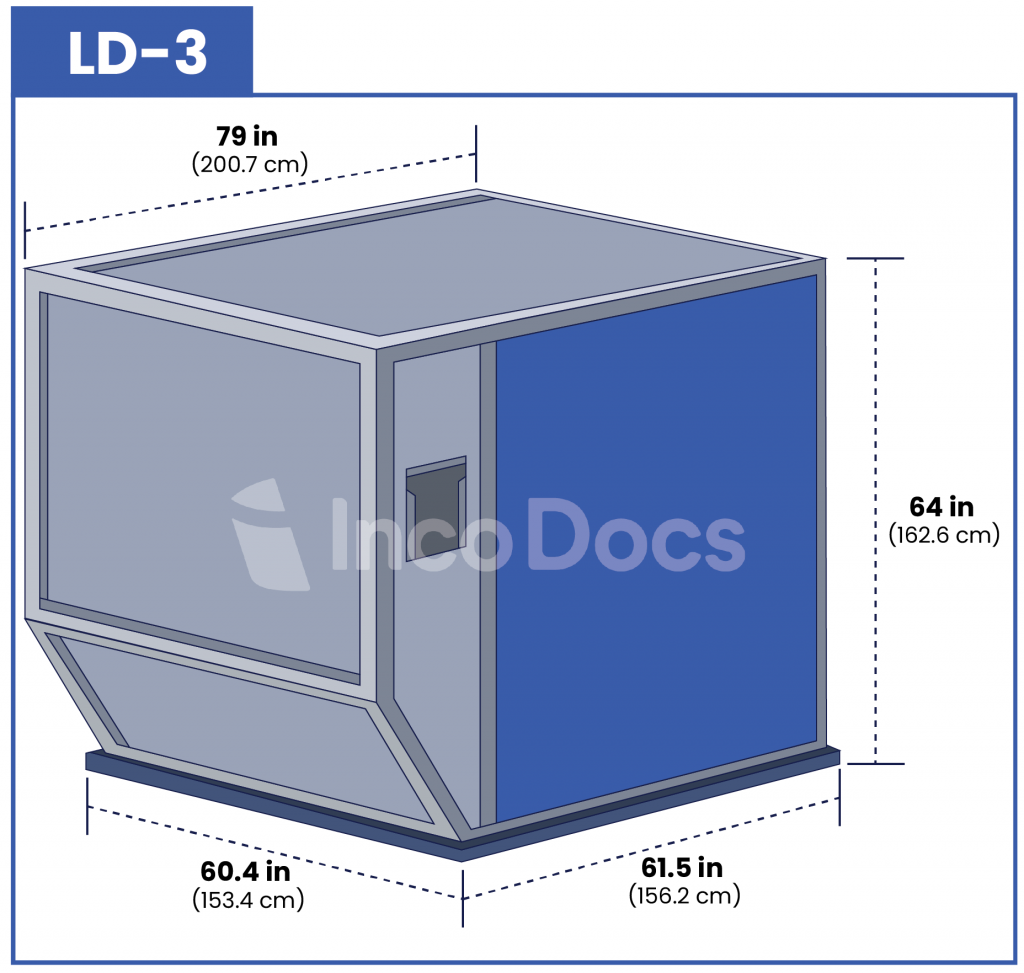 IATA ULD code: AKE contoured container
Prefixes: AKE, AVA, AVB, AVC, AVK, DVA, DVE, DVP, XKS, XKG, and forkable AKN, AVN, DKN, DVN, and XKN
Rate class: Type 8
Description: Half-width lower deck container with one angled side. Door is either canvas or solid.
Loadability: A300, A310, A330, A340, 747, 767, 777, DC-10, MD-11, and L-1011
Door opening: 58 x 61 in (147 x 155 cm)
Maximum gross weight: 3,500 lb (1,588 cm)
Tare weight: 181 lb (82 kg)
AS1825 volume: 159 ft3 (4.5 m3)
LD-4 Unit Load Device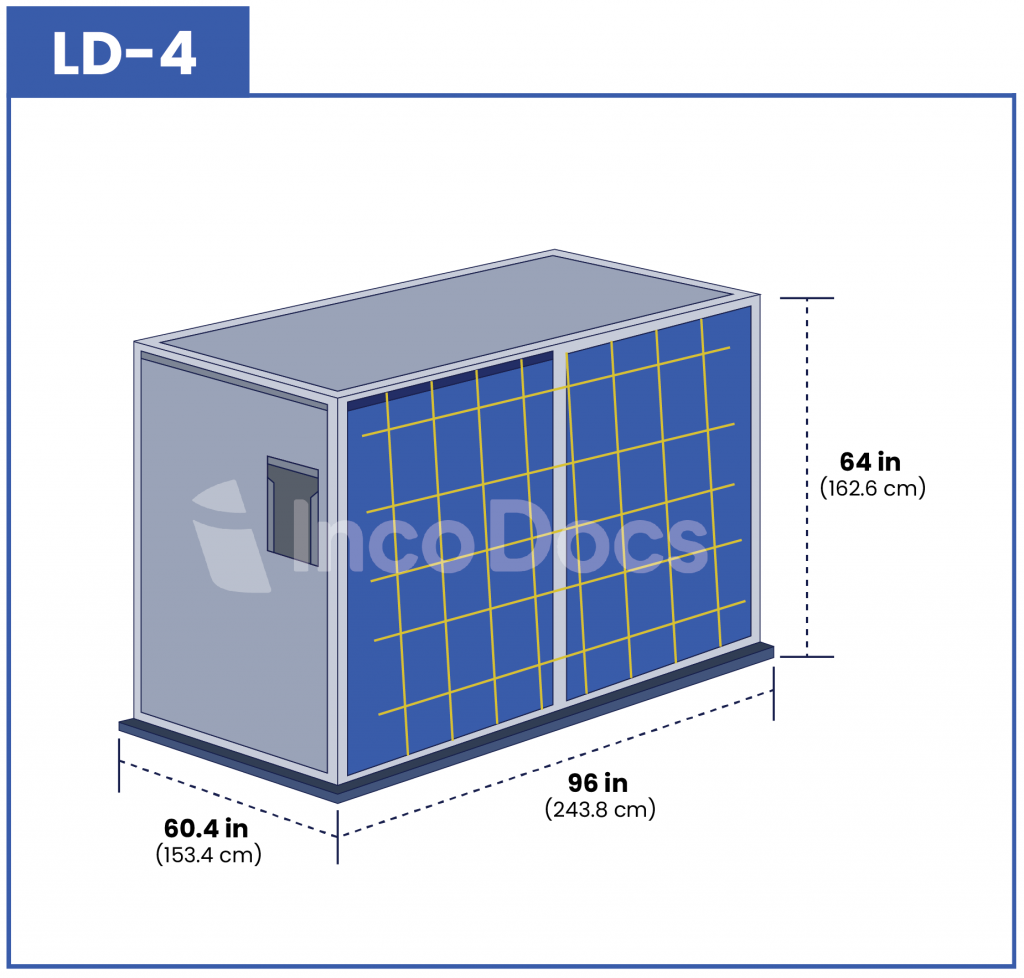 IATA ULD code: ALP rectangular container
Prefixes: ALD, AWD, AWZ, DLP, and forkable ALB, ALC, AWB, and AWC
Rate class: Type 8
Description: Full-width lower hold container. Door is canvas with built-in door straps.
Suitable for: 767, 777, 787 lower hold
Door opening: 92 x 61-in (234 x 155-cm)
Maximum gross weight: 2,449 kg (5,399 lb)
Tare weight: 120 kg (264 lb)
AS1825 volume: 5.7 m3 (200 ft3)
Boeing volume: 5.5 m3 (195 ft3)
LD-6 Unit Load Device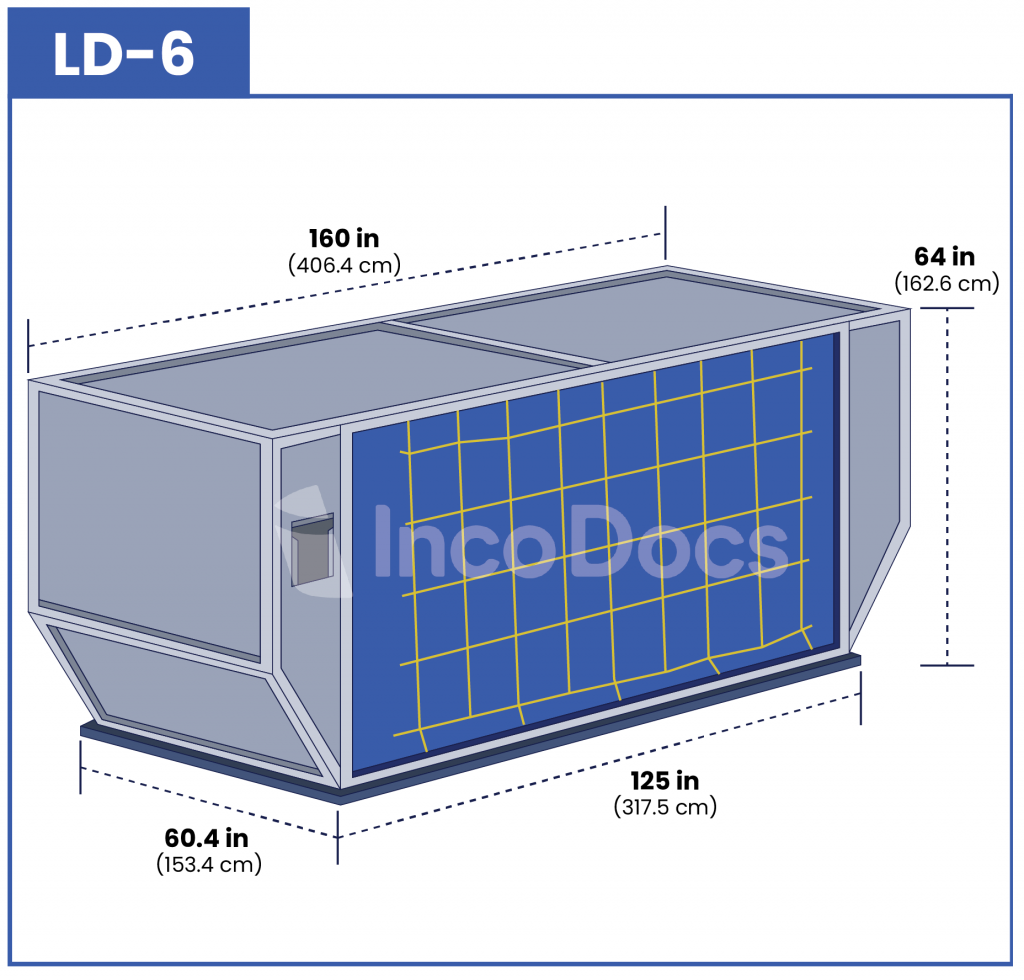 IATA ULD code: ALF contoured container
Prefixes: AWA, AWF, and forkable AWC
Rate class: Type 6W
Description: With built-in door straps.
Suitable for: 747, 777, 787, DC-10, MD-11 lower hold
Door opening: 120 x 60-in (305 x 152-cm)
Maximum gross weight: 3,175 kg (7,000 lb)
Tare weight: 230 kg (507 lb)
AS1825 volume: 9.1 m3 (322 ft3)
Boeing volume: 8.9 m3 (316 ft3)
LD-7 Unit Load Device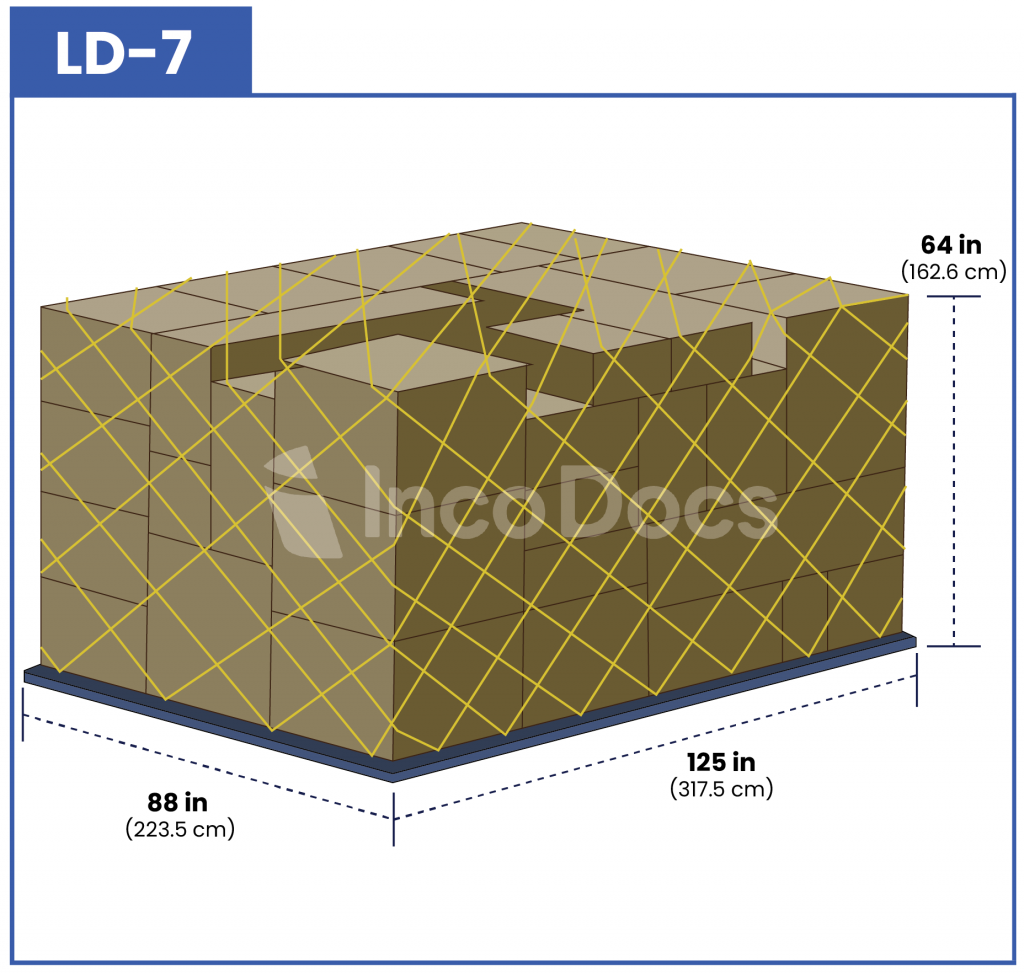 IATA ULD code: P1P flat pallet with net
Prefixes: PAA, PAG, PAJ, PAP, PAX, P1A, P1C, P1D, and P1G
Rate class: Type 5
Description: Universal general-purpose flat pallet for lower holds and main decks.
Suitable for:   Widebody: All aircraft lower holds and main decks.   Standard-body: 707F, 727F, 737F, 757F, DC8F, DC9F main decks
Maximum gross weight: 4,626 kg (10,198 lb)
Tare weight: 105 kg (231 lb)
AS1825 volume: 10.5 m3 (370 ft3)
Boeing volume: 10.7 m3 (379 ft3)
Other Unit Load Devices include:
LD-7 with Folding Wings Unit Load Device
LD-7 with Angled Wings Unit Load Device
LD-8 Unit Load Device
LD-9 Unit Load Device
LD-9 Reefer Unit Load Device
LD-11 Unit Load Device
LD-26 Unit Load Device
LD-29 Unit Load Device
LD-39 Unit Load Device
M-1 Unit Load Device
M-1H Unit Load Device
M-2 Unit Load Device
M-6 Unit Load Device
M-6 (188″H) Unit Load Device
M-6 Twin Car Pack Unit Load Device
MDP Half Pallet
PMC/P6P Pallet
PNA Half Pallet
Demi