Companies shipping goods Internationally need to provide export invoices to meet trade compliance
What is the difference between an accounting invoice and an export invoice?
Standard 'accounting invoices' contain enough information to cover the requirements for domestic sales and transactions.  The fields included on an accounting invoice is quite simple compared to an 'export invoice'. Export invoices include Proforma Invoices and Commercial Invoices used in global trade.  Many country's customs departments will require more details to cover important trade information.  Therefore, if this important information is not included it can cause big problems with the customs clearance process in the country of import.
What are the additional requirements for an export invoice document?
Global trade requires sharing information between different country's customs departments.  Customs departments will require extra information including:
Incoterm
Incoterms are the Internationally recognized buying and selling terms used in global trade.  They are used to clearly determine when the costs and risks are transferred onto the buyer. Read more about Incoterms here.
Product Classification Codes
HS Codes or HTS codes will be used by customs departments to correctly identify the products contained in global trade shipments.
Port of Loading, Port of Discharge and Final Destination
These fields are important to identify where the goods are being shipped through to.  In some cases shipments can be unloaded at one country's seaport, then be trucked or railed through to a different country – the final country of destination.
Commercial value of goods shipped
In some cases the actual commercial value of the goods that have been shipped can higher than what was charged to the buyer.  Sometimes goods are shipped to a buyer as replacement goods or sample goods which are not charged at the full commercial value.  Customs departments will need to know the actual commercial value, which may be different to the value on a company's accounting invoice.
International bank account details
Most accounting invoices do not allow shippers to include their company's International bank account details.  This includes beneficiary account name, SWIFT Codes and International bank account numbers.
Multi Currency Invoices
The currency of goods sold Internationally is usually different to the currency of goods that are sold within the shipper's country.  Therefore export invoices must allow shippers to create invoices using the currency that the goods have been sold.
United Nations Layout Key Format
The United Nations Layout Key is a document model that was created by the UNECE to indicate the location of specific information required for trade documentation.  It covers agreed specifications including paper size, margins, structured fields and presentation of data. Following this format ensures that shippers meet International Trade compliance to avoid any misinterpretation that could cause delays, fines and missed shipments.
Example of an accounting invoice and export commercial invoice: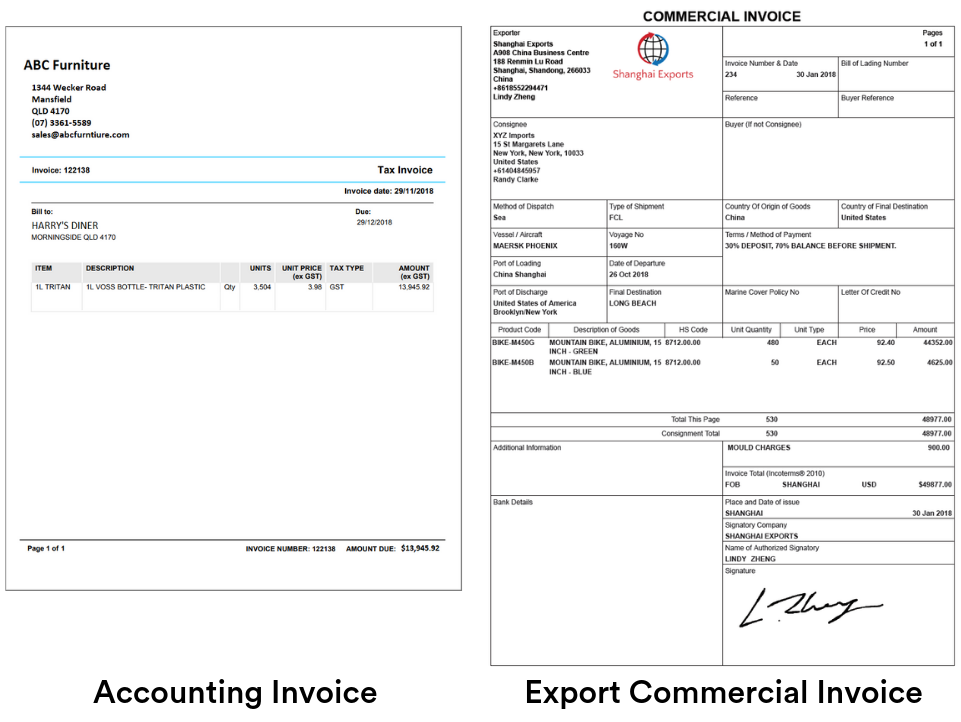 Will shippers have to create both types of invoices?
When exporting goods overseas shippers must create compliant export documents to avoid problems or delays.  The data contained in the export invoice still needs to be accounted for within that company's accounting system. In most cases the data from the export invoice will have to be re-typed into an internal accounting system.  Some larger companies require a software integration to eliminate that manual data entry process. IncoDocs can be integrated with your local accounting system. Contact us for more information on invoice integrations.
More Helpful Articles
Read how buyers and sellers digitally countersign proforma invoices, purchase orders and sales contracts online using digital company stamps.


Read how to create Proforma Invoice and Purchase Order documents here.
Read the difference between a Proforma Invoice and Commercial Invoice here.