How to Correctly Source New Suppliers From Alibaba
Sourcing suppliers from online marketplaces like Alibaba can be a quick and cheap option for your business. However, you must know what to look for and what to avoid. Finding the right supplier for your business is key to your import export success. There will be hundreds, if not thousands of different suppliers that can provide the product you are looking for.
Therefore, you should never rush into a decision.  You must thoroughly research and understand your supplier and their product offering so that you can choose the right partnership.  To help business owners have a good experience and avoid some common mistakes, read the top 5 tips to consider when sourcing a supplier from Alibaba.
The 5 Tips for Better Sourcing Suppliers From Alibaba
Tip 1. Source Multiple Factories and Suppliers
Do your research. There will be hundreds, if not thousands of different suppliers that can provide the product you are looking for so always do your market research and get confirmed quotes from 3-5 alternative suppliers based on key indicators.
Analyze the search results, are you dealing with a factory or trading company? When you look through a supplier's page on Alibaba, take a good look at the product categories. Are they trying to sell too many different types of products? If they are listing too many kinds of products, then it's most likely that they are a trading company and not the factory that manufactures the product.
Sometimes dealing with a trading company is fine as they can generally provide you with products in a lower quantity (MOQ) than some factories.  It can be hard to control the consistency of quality when dealing with some trading companies as they buy products from different factories for each order.  This gives them little to no control over lead times, quality control, packaging etc. Dealing with a factory is always the best option.
Tip 2. Compare Quotes from Multiple Suppliers
When analyzing supplier's quotes, if one supplier's pricing looks too good to be true then it usually is. Carefully compare the supplier's Price VS. Quality VS. Specifications VS. Minimum Order Quantity VS. Track Record.
Always compare all of the supplier's offers in detail as the cheapest option could become an expensive trap. You may narrow your search down to 2 or 3 potential suppliers before moving forward with getting samples made. Is their Minimum Order Quantity (MOQ) too high? Sometimes you can negotiate the MOQ down, but be prepared to pay a higher price.
Another thing you can do is ask to place a "trial" order of a lower quantity. For example, explain to the supplier that you want to do a "trial order" of a few pallets of products so that you can receive and test them in your market before proceeding with more significant orders in future.
Tip 3. Negotiate a Fair Price for Exported Products
You must understand it's a fine line between negotiating a good deal and receiving products of inferior quality. Even though there will be an element of negotiation involved, you must be careful because if you push a supplier too far on price then they will look at ways to reduce their costs of raw materials, reduce workmanship, quality control checks, packaging, etc.
Therefore, you must remember that these factories are running a business so they must also make a profit. To avoid having quality issues make sure you agree on a fair price so that they make products to suit your quality. If their pricing is a little high you may be able to get better pricing with increased volume.
If you have received a quote for a small LCL shipment, ask the supplier for pricing on a full 20' container of product, or a 40'GP (General Purpose) or 40'HC (High Cube) container of products.  Increasing the volume reduces the supplier's cost in most cases.

Tip 4. Get exact production samples made
Some suppliers may seem to have the exact product that you need. The information, specifications and photos that they have sent you may look like it's exactly what you need in your market. Although the products may seem right, you would be surprised in the differences you can get in actual functionality, strength, durability and the materials used! It may be a lot different to your exact requirements.
Never proceed with a first order without receiving actual samples made to your exact specifications. Once you have these samples, make sure you thoroughly test them so that you are satisfied with the end result. Samples will cost a lot more than the agreed production price, but it's well worth it to spend time and money to ensure you get the products right the first time!
How to create and download Purchase Order and Proforma Invoice documents.
Once you are satisfied with the quality of the samples and want to place a new order, create a Purchase Order document and send it to your supplier. The Purchase Order should include details of product specifications, quality, sizes, standards, quantity, lead time and payment terms. Read more about Purchase Orders and Proforma Invoices here.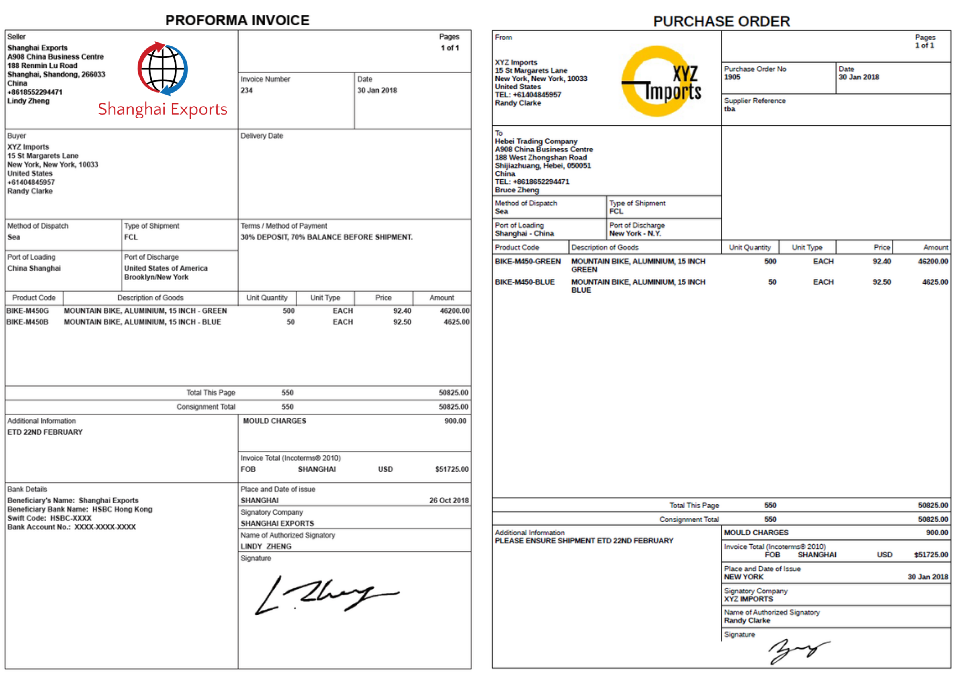 Tip 5. Don't Rush Factory Production Lead Times
Production lead times will obviously vary with the different products to be manufactured. Remember that factories will not have products in stock ready to ship. Their products are generally made from scratch and will take some time to properly organize the manufacturing process. They may have to arrange the purchasing of raw materials, manufacturing, quality control tests/checks, packaging and loading for export.
It's important to leave enough time for the factory to finish making the goods without being rushed. If you rush the production, then you run the risk of the factory making mistakes and shortcuts can be made which will cost you more in the long run. Make sure you receive detailed photos and videos of the finished products before they are packaged and loaded into containers. A good supplier will send you pictures and updates on the progress of your order.
Always plan enough time and allow for a delayed shipment if necessary. Typical lead times are around 25-30 days upon confirmation of a new order. Suppliers will not start manufacturing until the money has actually been received into their bank account. When the goods are finished, the supplier will request the balance payment. If you are happy with the product, make the balance payment without delay. Note that International payments can take from 2-5 business days to clear. Always lead enough time for the container to be loaded, trucked to the port and loaded on board the vessel.
Sourcing from Alibaba conclusion
Sourcing suppliers from Alibaba or other online trade marketplaces can be time consuming.  However, finding the right supplier is key to your import export success. To achieve that success you must:
Do exhaustive research about all the suppliers out there.
Compare all of the supplier's offers in detail.
Agree on a fair price, so they make products to suit your quality.
Never proceed with a first order without receiving actual samples made to your exact specifications.
Leave enough time for the factory to finish making the goods without being rushed.
Are you involved in Global Trade?
Our team created IncoDocs to make Global Trade easy.  IncoDocs allows exporters, importers and trading companies in over 120 countries to create compliant export documentation.  Try it for yourself today.