Export documentation is essential to get products shipped along the import export supply chain.  There are many important sales and shipping documents that must be used.  It may seem confusing at first, but importers and exporters must understand who creates each document and how they are used.  In this article we explain the main export documentation types involved, and when they are required.
What types of Export Documentation are required for global trade shipments?
Exporters must provide compliant shipping documentation to get products cleared through customs and shipped through to final destinations.  Global trade involves commercial invoices, packing lists, declarations, certifications and Bills of Lading to name a few.

How are shipping documents used throughout the shipping process?
The Enquiry Process
The enquiry process starts with the buyer asking about the seller's product details and pricing.  Some Importers and Exporters find each other on trade websites such as Alibaba and GlobalSources then send new product enquiries.
Quotation Document
The exporter will send a detailed quotation document for the products offered for sale.  This document will include product specifications, pricing, currency, packing sizes, Incoterm®, payment details, port of loading, port of discharge and shipping method.  Popular shipping methods include FCL, LCL, Breakbulk, Air, Courier.
The Ordering Process
When the buyer is ready to purchase products, they will have to create detailed Purchase Order documents.  These documents are used to confirm exact details of the goods to be supplied.
Purchase Order Document
The buyer will send an official Purchase Order document to the ssupplier.  This will confirm all product and pricing details, generally as stated in the supplier's Quotation.
Proforma Invoice Document
The seller will send an official Proforma Invoice document to reconfirm the details of the goods to be supplied.
Note – Both parties must counter sign the Purchase Order and Proforma Invoice documents.  These document represent a legally binding agreement between the buyer and seller.  If there are any disputes relating to the order, these documents will be referred to in a court of law.
Read more about how buyers and sellers digitally counter-sign proforma invoices, purchase orders and sales contracts online with digital company stamps and seals.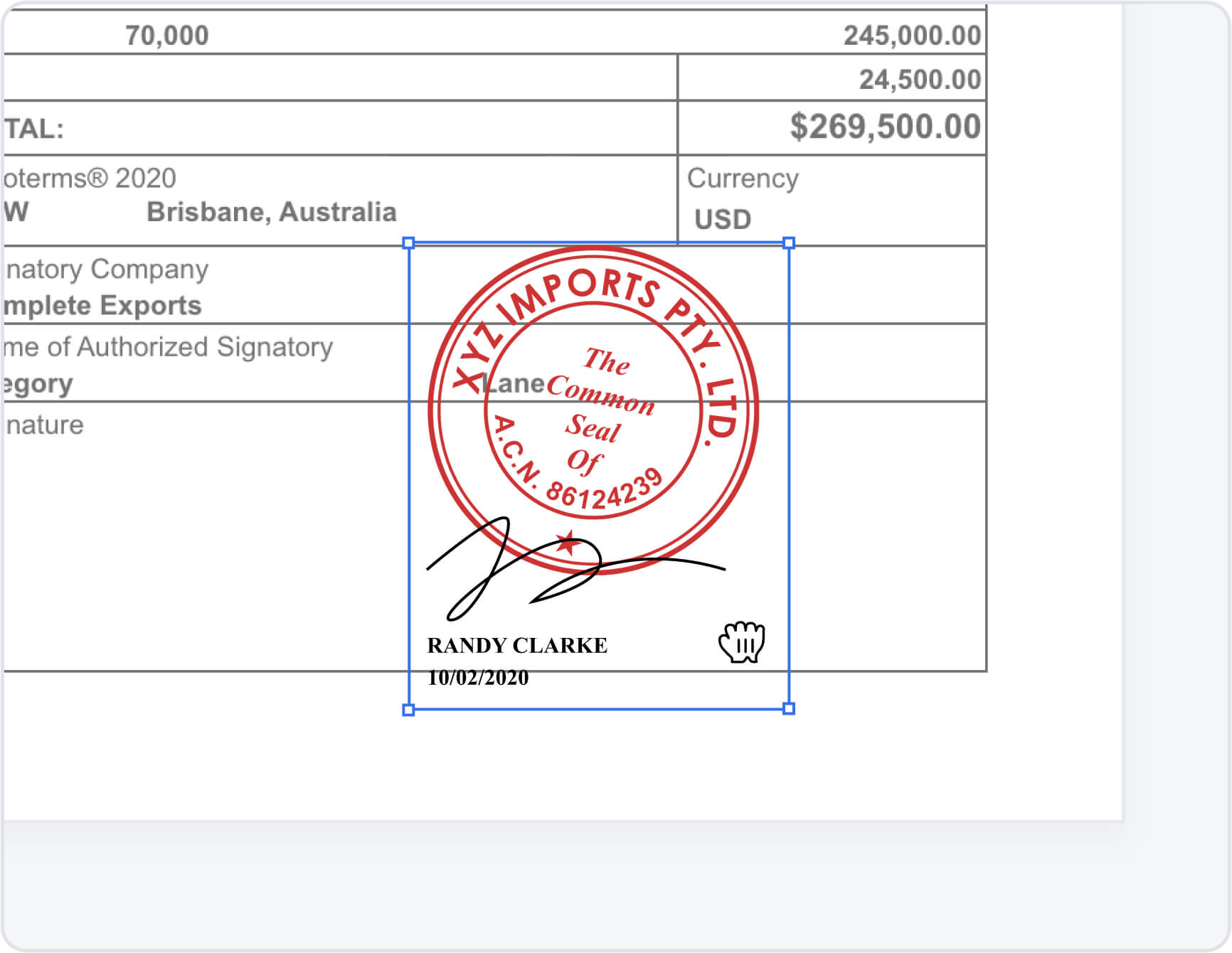 Read more about how Purchase Orders and Proforma Invoices work.
Order Confirmation Document
In some cases the supplier may also issue an additional Order Confirmation document.  This is used to re-confirm the details of goods that have been ordered.
The Shipping Process
After the goods have been ordered and produced, they exporter will package the goods and arrange the export process.  The export will create the following shipping documents.
Shipper's Letter of Instruction (SLI)
A Shipper's Letter of Instruction (SLI), or Interim Receipt is a very important legal document.  It is the shipper's detailed document that gives full instructions to the agent that is arranging the export shipment (this is usually the freight forwarding company).  This document will state all specific instructions so the agent can correctly arrange the logistics of the cargo.
Verified Gross Mass (VGM) Declaration
A Verified Gross Mass document is only required if the goods are being shipped as a full container (FCL cargo).  It is a very important document that states the shipper's verified gross mass of cargo.  Shippers must ensure that shipping containers are correctly weighed and verified within important weight limitations.  Read more about VGM declarations and SOLAS legal requirements here.
Bill of Lading Document (B/L or BoL)
A Bill of Lading document is the most important document involved in the supply chain.  It is a legal transport document that is issued by the carrier of the goods.  When the goods are loaded on board the vessel for export, the shipping line will issue a Bill of Lading to the shipper (exporter) to confirm proof of shipment.  The shipper will send a copy of the Bill of Lading and other shipping documents to the importer.
Commercial Invoice Document
The Commercial Invoice confirms all of the details of the goods that have been shipped.  This includes shipper & consignee's details, product information, pricing, currency and Incoterm®.
Packing List Document
A Packing List is a detailed document stating how all of the products have been packaged inside the shipment.  The document includes packaging types, quantities, sizes and weights of all packages included inside the shipment.  Depending on the method of shipment, a seafreight packing list or an airfreight packing list can be created.
Packing Declaration ISPM15 Document
An export packing declaration states the type of packing materials that were used to pack the goods inside the shipment.  It's purpose is to ensure that any timber packaging that has been used is ISPM15 compliant.  This is to protect the spread of insects and diseases that can be hiding away in timber packing materials such as pallets, crates and dunnages.
Certificate of Origin (COO) or Declaration of Origin (DOO)
The Certificate of Origin is the manufacturer's declaration stating the country of origin where the goods have been manufactured.  It is usually only required if the country of export and country of import have a current Free Trade Agreement in place.  The manufacturer can provide a Declaration of Origin document, and get this approved by their local Chamber of Commerce.  The importer will use this in the customs clearance process to reduce or eliminate import duties payable.
Arrival Documentation Process
As the shipment is arriving into the country of import the shipping line or freight forwarder will send any applicable documents to the importer.  These can include customs clearance documents, arrival notices and invoices for seafreight and local handling charges.  Note that the International seafreight or airfreight will be payable by the consignee/importer for Incoterms® FOB and before.
Mastering the Shipping Document Process in Global Trade
The world of global trade is filled with complexities, and one of the most intricate aspects is the shipping document process. Whether you're exporting or importing goods, understanding terms like "Export documentation", "Export documentation Process", "import export documentation", and "shipping documentation process" is vital. These terms represent the steps and paperwork required to ensure goods move across borders without hitches. By mastering these processes, businesses can avoid costly delays and ensure their shipments reach their destinations seamlessly.
Why are shipping documents so important in global trade?
Shipping documents ensure that goods are correctly declared, meet all regulations, and can be tracked throughout their journey, ensuring smooth customs clearances.
What's the main goal of the export documentation process?
The goal is to prepare and provide all necessary documents that prove the legality, quality, and origin of the exported goods, facilitating their entry into the importing country.
How does import documentation differ from export documentation?
While export documentation focuses on the requirements of the receiving country, import documentation ensures goods meet the standards and regulations of the importing country.
Are digital versions of shipping documents accepted?
The acceptance of digital documents varies by country and specific customs regulations. It's always best to check with local customs or a shipping expert.
What happens if there's an error in my shipping documentation?
Errors can lead to delays, additional costs, or even the seizure of goods. It's crucial to double-check all documents for accuracy.
Can I handle shipping documentation myself, or should I hire an expert?
While it's possible to manage it yourself, many businesses prefer to hire experts or use specialized software to ensure accuracy and compliance.