What is a Proforma Invoice?
A Proforma Invoice document is an important document used when selling goods Internationally.  It can also be referred to as a "pro forma invoice" or "performa invoice".  Buyers and sellers will negotiate the details of the products to be supplied, then the seller will create a Proforma Invoice document to confirm all details of the order.
Standard accounting software only provide invoice templates with information required for domestic sales and transactions.  Therefore when selling and shipping products Internationally, exporters need to create a detailed Proforma Invoice template to include all important details of the order and shipping process.
The Proforma Invoice template will include all product details, quantity, currency, Incoterm & place, shipping details and the details to make a deposit or balance payment.  During this article we breakdown the main sections of a Proforma Invoice template and explain how shippers can create and download a Proforma Invoice for global trade.
What is a Proforma Invoice used for?
At the beginning of a new order to be shipped Internationally, the seller will share the Proforma Invoice document to the buyer to confirm the order details and usually request a part payment.  In the global trade process, usually the exporter will require a deposit payment to confirm the order and start manufacturing the goods.  A common example is a 30% deposit payment up front, and the 70% balance payment after the goods have been produced or shipped (the specific terms to be negotiated and agreed between the buyer and seller).
Note that Proforma Invoices are issued pre-shipment, i.e. before the goods have been produced or delivered.  Once the goods have been produced and are ready for shipment, sellers will request the balance amount to be paid on a Proforma or Commercial invoice.  A commercial invoice is usually issued after the goods have been supplied.  The Commercial Invoice will contain the actual final product quantity and balance amount to pay and will be used by the importer during the customs clearance process.  Using IncoDocs, exporters can convert a Proforma Invoice into a Commercial Invoice in 1 click without re-typing any information.
A Breakdown of Information in a Proforma Invoice Template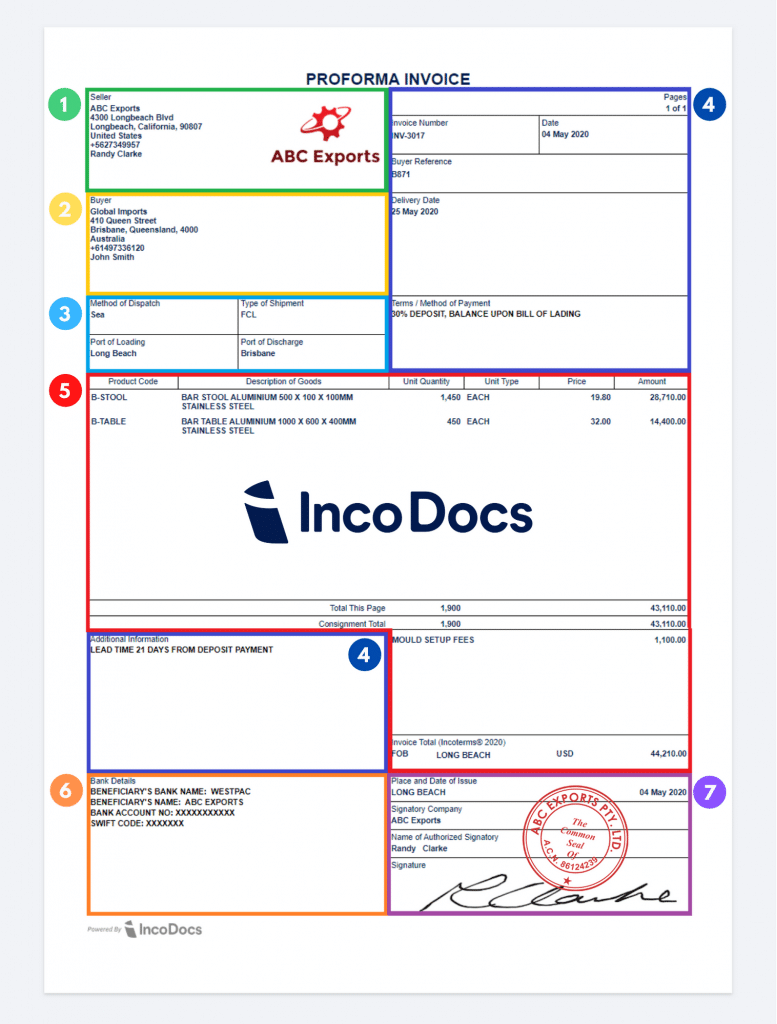 As mentioned above, it's important that sellers include all details on their Proforma Invoice document to avoid confusion, disputes or issues with new orders.  We've split the Proforma Invoice into sections to make it easy to understand where relevant information is required.  Starting at the top left is the details of the Seller of the goods:
1 – Seller's Details
This includes basic company contact information including company name, logo, address, phone numbers and personal contact details.
2 – Buyer's Details
This includes basic company contact information including company name, address, phone numbers and personal contact details.
3 – Shipping Details
Important shipping and logistics details are included to help buyers, sellers and logistics companies to correctly arrange the transportation of goods.  Shipping details include:
Method of Dispatch – Road, Rail, Air or Sea Freight
Type of shipment – FCL, LCL, Breakbulk or other
Port of Loading (POL)
Port of Discharge (POD)

Note – A Commercial Invoice will include Vessel/Aircraft name, Voyage number and Date of Departure, Country of Origin of goods & Country of final destination
4 – Reference Numbers & Additional Information
This section includes reference numbers, dates and additional information:
Seller's Invoice number

Date (when invoice is issued)

Buyer's reference number (usually the buyer's Purchase Order number)

Delivery date

Terms/method of payment (the methods of payment and payment terms, i.e. 30% deposit, 70% balance)

Additional details (usually lead times, vessel details or other order notes)
5 – Product Details
Seller's will add a detailed list of the products to be supplied.  This includes important information such as:
Product Code (unique product reference number)

Description of goods

Unit Quantity

Unit Type

Price (per unit type)

Any additional fees or charges (usually mould, setup fees, transport costs or taxes)

Incoterm®

 & Place – The selling term and place agreed between buyer and seller

Currency of transaction
6 – Bank Details
The seller's detailed bank information.  This usually includes:
Beneficiary Details
Beneficiary Business Name

Beneficiary Business Address
Payee Bank Details
SWIFT Code (Bank ID).

Each financial institution in the SWIFT network has a unique SWIFT code that is between 8 and 11 characters. This is known as a SWIFT ID or a bank identifier code (BIC).  You can

lookup a SWIFT/BIC Code here

. 

For example, to make a Bank of America wire transfer, the Bank of America SWIFT code is BOFAUS3N

Bank Location (Country)

Bank Location (City)

Bank Name

Intermediary Bank Details (optional).  If the seller uses an Intermediary bank to accept payments, the Intermediary bank details should also be included,

i.e. SWIFT Code (Bank ID) Bank Location (Country), Bank Location (City), Bank Name.

IBAN – International Bank Account Number
7 – Authorized Signature
To finalize the document, the seller can add their signatory details:
Place of issue

Date of issue

Signatory Company

Name of Authorized Signatory

Digital Signature (using IncoDocs, sellers can draw or upload their digital signature)

Digital Company Stamp (using IncoDocs, sellers can create or upload their digital company stamp or seal)
How to Create a Proforma Invoice Document Template for Export
How Exporters use IncoDocs to Create and Share Proforma Invoices to Buyers and get paid fast.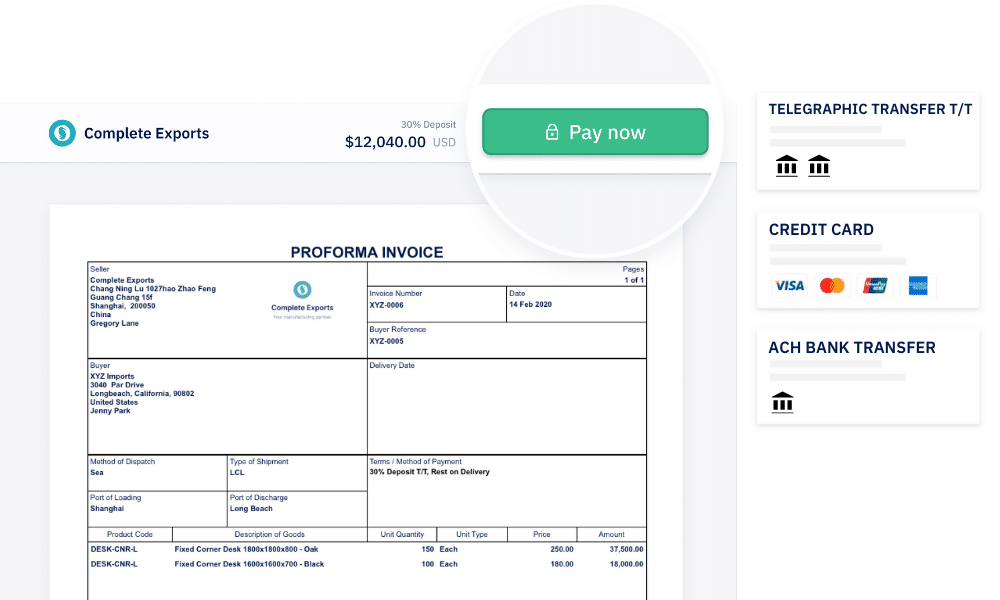 Exporters use IncoDocs create a and share a Proforma Invoice to buyers in just a few clicks:
Click to insert pre-saved contacts & products

Add relevant shipping information, reference numbers and any additional information

Click to insert pre-saved Bank Details

Click to insert Digital Signature and company Stamp / Seal (100% paperless)

Click to send Invoice directly to buyer's email

Buyers receive an email where they can:

Click to accept, comment or download the PDF document

Countersign the invoice online (eliminating the manual print, sign, scan and email process)

Create a Purchase Order in 1-click (no data re-entered)

Pay Proforma Invoice online by Credit Card, ACH or T/T telegraphic transfer
How to convert a Proforma Invoice into a Commercial Invoice and other shipping documents.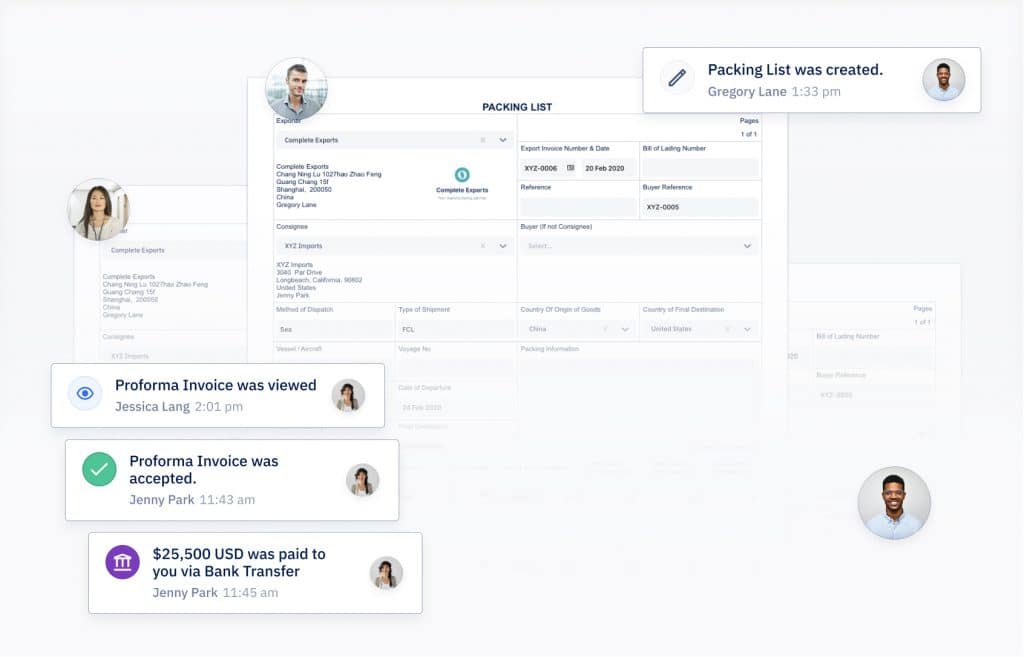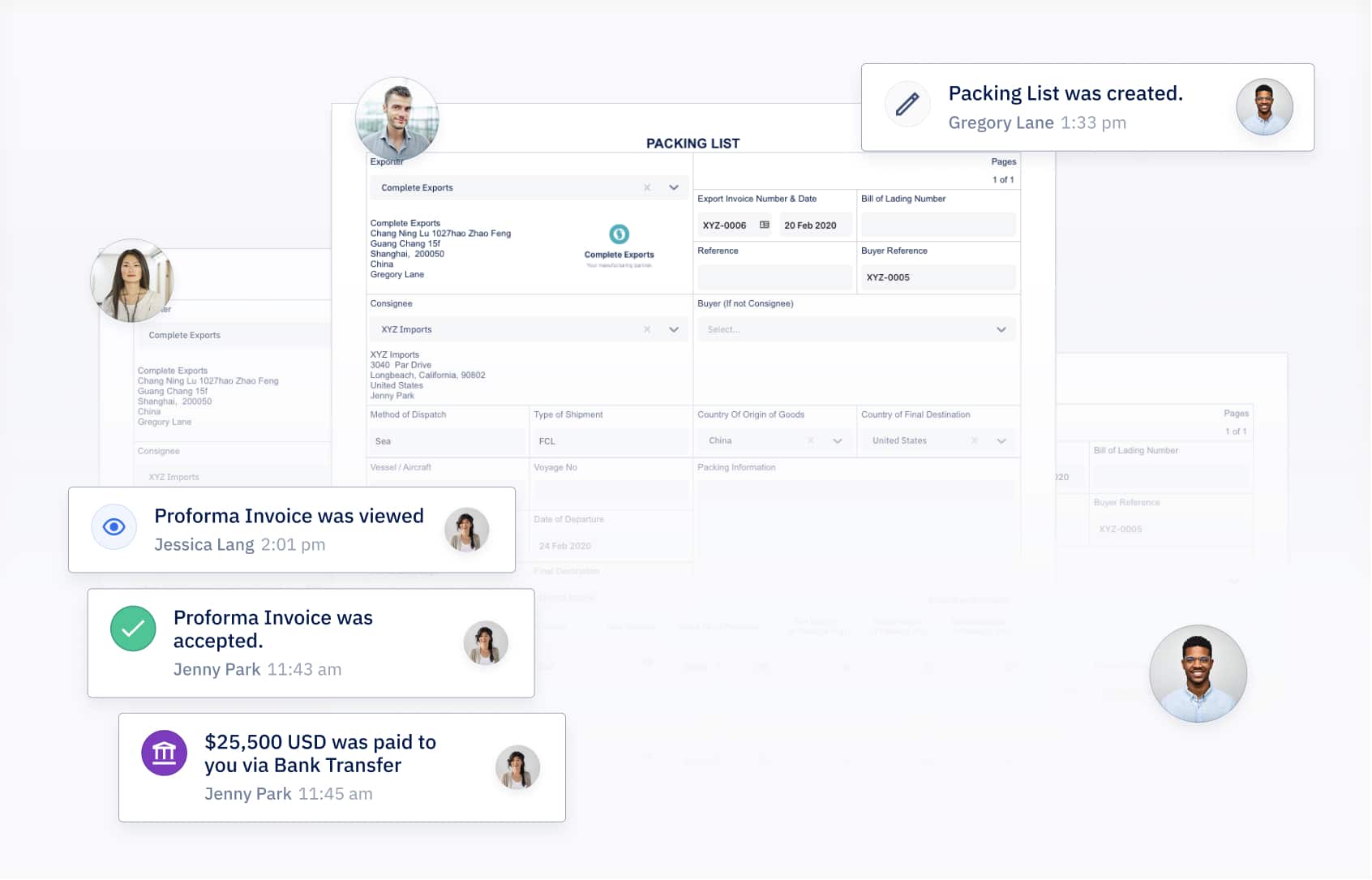 Once a deal has been confirmed and delivered, exporters can convert a Proforma Invoice into a Commercial Invoice in 1 click without re-typing any information.  Exporters can then create and manage their shipping documentation in 1 shared workspace.  Users eliminate data re-entry by entering data into 1 master screen then have everything instantly sync to all shipping documents required.  Shipping documents include Commercial Invoices, Packing Lists (for FCL, LCL, Air and consolidated shipments), Verified Gross Mass (VGM), Shipper's Letter of Instruction (SLI), Forwarding Instructions (FI), Manufacturer's Declarations and other shipping documentation.
The problem with manually creating a Proforma Invoice template in Word or Excel format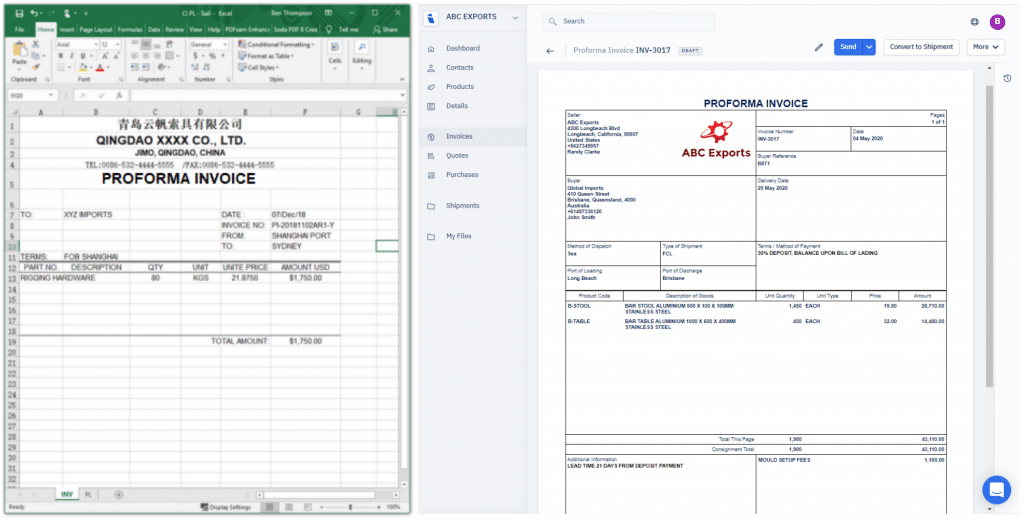 Some export companies have created templates for Proforma Invoices and other shipping documents using Word or Excel templates.  Usually someone in the company setup a process that requires users retyping data or copying and pasting between documents.
Because of this, it creates an unreliable process that is prone to human error. Every time that data is re-entered there is a real risk to your business.  One simple error on a Proforma Invoice or shipping document can cause delays, fines and missed shipments.